Showit SEO Insider Secrets: How to Optimize Your Showit Website Like a Pro with Search Engine Optimization
If you're frustrated with the lack of visibility website is getting in search results, you're not alone. We're all mercenaries in the fight for page rank.
If you feel like no matter what SEO strategies you try nothing seems to work, it's time to do a deep dive & unlock the power of Showit Search Engine Optimization!
As a 10-year Showit SEO expert & veteran, I'm Forest offering LT. Dan (you) ice cream (Showit SEO insider secrets).
(If you're new here, click here–you'll be able to share a laugh and a new inside joke.)
No matter if you've had your website for a decade or it's a brand new website, now's the time to take control of your website and make sure you, and every page possible, show up on top in Google search results.
What is a Showit Website?
Showit provides business owners with the ability to quickly & easily optimize optimizing their websites. This platform is perfect for photographers and wedding professionals who need to continuously update their portfolio & reviews on their website. 
Showit is a drag-n-drop interface on top of a Wordpress website platform. Wordpress part of site is where you blog in Showit & add one SEO plugin like Yoast SEO (ehh–skip it), RankMath (recommended for everyone), or Zynith SEO (recommended for advanced SEO user).
The app.showit.co part of your Showit site offers users unparalleled flexibility in design and editing capabilities, allowing you to craft stunning sites with ease.
As well as the power of drag-and-drop customizations and page builder options, Showit also grants access to powerful SEO tools which can help boost website visibility and rankings. With Showit, your business will stand out from the competition. You'll be able to create unique visuals that capture your brand identity while optimizing for SEO at the same time – no coding required! 
What Is Search Engine Optimization (SEO)?
Search engine optimization (SEO) is like a well-oiled machine that helps businesses move from obscurity to the forefront of search engine results. It's an ever-evolving process, and its power can be unlocked with careful effort and persistence.
So what exactly is SEO?
search en·gine op·ti·mi·za·tion
the process of 

maximizing

 the number of visitors to a particular website by ensuring that the site appears high on the list of results returned by a search engine. "the key to getting more traffic lies in integrating content with search engine optimization and social media marketing"
In short, it's all about optimizing your website so that you rank higher in organic searches on search engines such as Google or Bing.
This involves using keyword research, content creation, backlinking campaigns, HTML coding, analytics tracking, and more – all designed to get the most out of each page and increase visibility for potential customers.
The benefits of SEO are multi-faceted: having a high ranking naturally increases traffic to your site; users will have confidence in your brand as they trust search engine results; and if done correctly, SEO can save money by reducing the need for expensive ads or other marketing efforts.
All this adds up to increased leads and sales opportunities for any business looking to stay ahead of competitors.
Using SEO for Showit might seem like a daunting task; but the truth is, it can actually be pretty simple and straightforward – with amazing results! 
Here are just 4 of benefits that SEO offers to Showit:
1) Increased visibility for your website. With proper implementation, SEO helps you rank higher in relevant searches so more people find your site quickly and easily.
2) Improved user experience on your site. By optimizing your content, users will have an easier time navigating and understanding what's available on your page. This leads to better engagement and fewer bounce rates.
3) More chances to convert customers into clients or buyers. When potential customers come across your website through organic search rankings, they're much more likely to stay engaged – increasing the likelihood of them becoming paying customers.
4) A boost in brand recognition & authority. As you climb up the ranks in SERPs (search results pages), it increases trustworthiness among potential customers while also adding credibility to your brand as an expert in your field.
All this means that once you learn how to use SEO correctly for Showit, you'll maximize its capabilities by gaining more exposure for your business online and stimulating customer loyalty at the same time!
Common Showit SEO Mistakes
PAUSE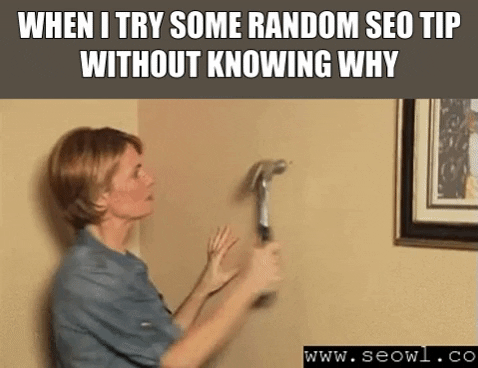 Before you run, you gotta walk. The best way to learn to hit the ground running is to learn the mistakes… When intaking new Showit SEO projects, I see these common SEO mistakes happen all the time. 
All too often, people think they have done enough with their site and don't realize there are still more steps to take; I often find that important SEO settings & elements were inadvertently overlooked or skipped altogether. 
3 Most Common SEO Mistakes:
Unoptimized images. This includes making sure each image has an alt tag for accessibility purposes as well as resizing them so they're no bigger than necessary. Larger images will slow down page speed which affects your ranking on search engines like Google.


Keyword assumptions & stuffing. This is where you guess at what keywords are needed and then use keywords excessively within your content and metadata in order to artificially boost your chances of appearing in SERPs (search engine results pages). Not only does it look bad from a reader's perspective, but Google also penalizes sites for this tactic by either ignoring the extra words or lowering its position in the SERP rankings entirely. 


Improper Showit Text Tag usage. …that's a whole thing, you'll have to click here to read more about using text tags correctly in Showit. 
How To Get your SEO Strategy On Track Using Showit
Understanding which keywords will bring more eyes to your website
Developing content that focuses on those specific terms
Optimizing pages for Google bots including titles – H1 – meta descriptions – content
Now let's look at how to put these pieces together and implement effective SEO for Showit.
Research. The first step is research; identifying what words or phrases people may type into a search bar when looking for services like yours. This should be done from both an analytical perspective (what numbers suggest) as well as intuition (what do you think might work).


Content Creation. Once you have identified some potential keywords, create content centered around them. Utilize images, videos, headings and other features to ensure all relevant topics are covered thoroughly by your page(s).


 On-page optimization. Optimize the page so Google can properly recognize the content—this includes adding meta tags and titles that accurately reflect what's on the page itself.
Putting everything together requires patience but pays off big time when executed successfully! Implementing SEO strategies not only helps increase visibility online but also allows visitors to find exactly what they need quickly and easily while enjoying an overall pleasing experience navigating through your website.
Keywords + Showit
Personally, I consider every page on your website to be real estate for a keyword set. 
"Knowing what people search for and how to help Google find the information people want is SEO."
-Stef
So how do you figure out what keywords are important?  Keyword research. 
This beginner's guide to keyword research blog post will give you detailed insights into how it keyword research works and why it matters.
Read it through to better understand your target audience, using free tools like Google Ads Keyword Planner, analyzing search trends and more. You don't need to be a tech genius or SEO expert – just some basic knowledge about keywords and their importance is all you need to get started!
Tips for SEO Settings & Showit SEO Tools
When optimizing your Showit website for SEO, it's important to update the Page Title, Meta Description, Text Tags, and Image SEO settings. Utilizing these Showit SEO tools and setting them up properly will enable you to optimize your website.
How To Access Access Showit SEO Tools
To access these basic Showit SEO tools you need to:
Navigate to the Site tab on the left side of your screen when you're logged into app.Showit.co.
Select the SEO settings tab from the right side menu.
You'll utilize these three Showit SEO tools:
Page Title – This is the main title of your page and should be less than 70 characters.
Meta Description – This is a brief description of your page and should be less than 160 characters.
Share Image – This is the image that will appear when your page is shared on social media.
Text Tag – This is a setting that is set for all on-page text.
Image SEO – These settings are available on all images.
How To Implement SEO For Showit Website Template – On Page Optimization
Now that you understand the SEO settings & Showit SEO tools, let's examine the 5 main on-page optimizations: 
SEO Title – Site Title
Page Title
Meta Descriptions
Showit Text Tags
Optimizing Images for SEO
1. SEO Title + Showit
When you're updating your site title/SEO title in Showit there are two main sets of settings to consider, the app.Showit.co settings & the Wordpress settings.
Most businesses will utilize their formal business name or their brand name to set these. Here's where to locate and update that information:
Home – Page Info – Page Name
Home – Page Info – Page Title & SEO Settings
Site Settings – Site Name
Showit - Wordpress Title Settings
Settings – General – Site Title
2. Page Title + Showit
Your website's title is very important, as it tells readers what the page is about and helps search engines provide the most relevant results.
Your title should be brief, including your brand's keywords and the purpose of the page (Google only shows 60 characters in the title).
3. Meta Descriptions + Showit
This is a SEO description of a page, usually seen in search results. It gives viewers information about the page and encourages them to click the link.
Meta Descriptions, or simply Descriptions, are short snippets of page content. 
Keep these under 160 characters.
Text Tags for SEO
Search engines use HTML Text Tags and Showit Header Tags to index the structure and content of your web pages. Using this Showit SEO tool helps search engines better understand the information found on your site.
The most important headings should be formatted as <h1>, followed by <h2>, then <h3>, and so on.
Showit automatically applies Text Tags based on the font design settings you are using.
Here is an breakdown on the latest Header Tag SEO recommendations for optimizing your Showit Website for SEO.
4. Optimize Your Images Before You Upload to Showit
Optimizing the graphics and images used and uploaded to your Showit website is an essential component of a successful SEO strategy.
Showit Image SEO Settings
When viewing an image, there are options to add an SEO Title and Description for SEO purposes.
These titles and descriptions are used as the title and alt tags for the image and help search engines accurately index the file, instead of relying on generic image names.
Make sure not to overlook this important step. Here's a detailed breakdown of how to optimize your images for SEO. 
Tracking Results to Improve your Search Engine Optimization
It's easy to assume that SEO is a one-and-done process, once optimized you'll be good forever. But in reality tracking the results of your Showit SEO efforts and making changes as needed is an integral part of achieving success with the platform.
And while it may seem daunting at first, monitoring results can lead to significant improvements in organic traffic and higher website rank.
First things first: set up tracking tools like Google Search Console or Bing Webmaster Tools so you know how your website's pages are performing in terms of indexing, click rate and more. This will help you identify any issues early on before they become bigger problems down the line.
Then create a plan for regularly reviewing data from these sources which allows you to spot trends quickly and make adjustments where necessary – this could mean tweaking page titles, meta descriptions, images and other elements for better visibility amongst users.
Combining all this information together provides an invaluable insight into what works best for visitors when navigating around your Showit site – ultimately leading to improved performance over time as well as new opportunities for content creation.
When we do full Showit SEO projects, we're really looking to understand how people are searching for content and then how they are interacting with each element of the site so we we can then begin refining your site; this gives you huge advantage when competing against others in the same space!
Not only that but ongoing analysis also helps keep marketing strategies fresh and ahead of the curve, ensuring your brand remains relevant to users and to Google's changing search experiences is imperative!!
Optimize Your Showit Website with These Common Questions & Answers
Step-by-Step Tips For Optimizing Your Showit Site For SEO
If you're looking to optimize your Showit site for SEO, Showit makes it as easy as possible but you'll still need to do some work. If you're ready to make your website SEO-friendly, here are a few tips to consider:
Find a Showit template. Designs created by experienced SEO professionals already have your pages structured for SEO, so you just need to add the details.
Invest in an SEO audit. An audit will show you how your website is performing and provide insights on how to improve its SEO.
Work with a Showit SEO Expert & Website Designer. If you're considering building from scratch or relaunching your website with SEO in mind, find a website designer that specializes in brand identity and SEO.
Take your next steps today by connecting with me today and establishing the best move for a search engine optimized website to start generating organic traffic from Google. Contact me today!